Dance Live Champions!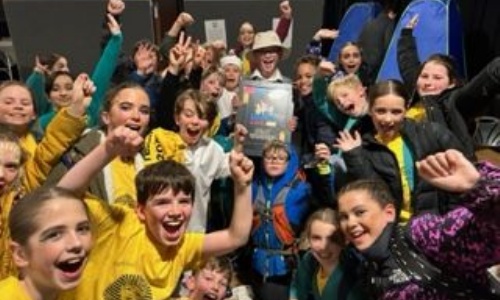 Highfield get FIRST PLACE at the junior heats in Portsmouth!
Well done Dance Live champions!
Congratulations to our Dance Live team, who have been crowned winners of the first heat of the competition! Months of preparation, weeks of practice, hours of polishing moves, a ton of glitter, metres of gold fabric, incredible teamwork and sheer determination saw the children rightly celebrated on Wednesday evening. Seventy two children took part in this fabulous event and the children competed against six other schools. The children danced absolutely beautifully and did us all proud. Our brilliant bunch of pupils are now through to the LIVE FINAL in April.
Thank you to Vanessa, Ellie and Mrs James for their hours of hard work and dedication to help the children put on such a fabulous show. Thank you also to Phil Wickens for creating the IT backdrop. It is clear that a team effort pays off and we are thrilled with this success! This is due to the children's ideas, talent, effort and persistence to improve. Well done all! A huge thank you to the staff whose skill, creativity and patience allowed them to produce a fantastic community performance, as well as the dedicated commitment and expertise of the parents with costumes, hair and make-up. This result shows how the wider support and encouragement from the school community can create success. It was a truly spectacular show and we can't wait for the final! Details will be sent regarding the arrangements and tickets as soon as we have them. Well done Highfield CHAMPIONS!